Your desk or table will (re)gain allure when the top is inlaid with gilt-edged English Leather. The processing involved is a craft. And one which verifies that "art" is born long years of practice. It is, indeed, a work of art.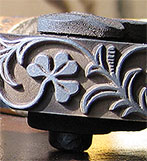 Every product is unique- the result of professional and creative handwork. The leather firm, "'T Kleine Verschil" is one of the few in Europe that can supply patinated gilt-edged leather in various colors, sizes and design- even round and oval.
"The classis look" and "Antique Look" are extremely smart; the result of an new process that makes the structure and warmth of the leather truly come alive. The raw material is imported English sheepskin. And England is a country that takes pride in upholding its long-established reputation in this field.
Sheepskin is limited in size in case of large sizes, the leather will be made of multiple pieces. Very common is the so called triptych ( a large middle piece with two smaller side pieces) The pieces will be welded together by us. As you wish the seams can be covered with a blind or gold printed dessin.